(Simple Writing Bullet #4: The Hook)
This is a hook — Forbes lists it as one of the top twenty tools ever invented: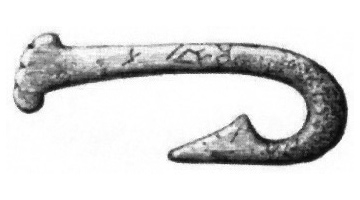 This is a hooker, played by Julia Roberts in Pretty Woman:
And this is The Hook of Pretty Woman:
A businessman falls in love with a hooker he hires to be his date for the weekend. – Pretty Woman
If you look around, the mistake you might see most people make is that they use "hookers" to draw attention to their message: Sex, Explosions, Humor, Surprise.
But there is a big difference in something that makes you look, and The Hook that drives you to action.
The Hook sticks. It draws you in. And it gets under your skin.
It feels like the song you can't get out of your head. Or the unanswered question that keeps you wide awake in bed.
The Hook should be the heart of any campaign you create. It is the spine that supports everything, and it's the glue that pulls it all together. It is what gives your piece fangs. It's the story that tickles the imagination and puffs like popcorn. It is the whirlpool that sucks your audience in… and down the slippery slide.
Bla bla bla… and so on.
Anyway, today, I'm going to share a simple 4-step checklist to help you create or find The Hook for anything you do — any ad, promotion, campaign, article, book or email — any time you want to drive someone to action.
But first, I think the best way to help you get a sense of what The Hook is with a few more examples. Just so you know what you're missing:
"A conversation with my 12-year-old self — 20 years later":
"One Photo a Day in the Worst Year of My Life":
When a good hook catches, it's difficult to escape. You must find the answer. You need to know more.
But you might be wondering, "What does The Hook have to do with writing; or selling a product, service or decision?"
Good question. Take this, for example:
"French Women Don't Get Fat: The Secret of Eating for Pleasure" (#1 New York Times Bestseller.) The Hook is: lose weight eating yummy things. The "proof": French women.
Or how about this:
"50% off all electronics"
No hook — "Hmm. I've heard that a million times. Maybe there's a catch." It slides right off.
Now, what if we add a hook?
"50% off all electronics because of a recent fire. All items guaranteed perfect even though boxes may be slightly smoky."
See? Same offer, but the fire gives you a reason to believe the discount. It also makes this promotion unique.
In advertising, this is called "Reason-Why" advertising. When "Father of Advertising" David Ogilvy was asked by a reporter if he was a strong proponent of "Reason-Why" advertising, Ogilvy responded, "Is there any other kind?"
See, people love to buy. People want to buy. But, we never make a decision based on logic alone. Logic is what holds us back. Your inner child wants satisfaction, but Logic is your adult self saying, "Shut up, you shouldn't because you must be responsible."
The function of The Hook and the "Reason Why" is to quiet those doubts and transport you to a comfortable place — so you can make a confident decision.
We want to buy, but we will only buy if we can believe.
In other words, The Hook is the seed of an irresistible story. A story that explains the Reasons Why — a story that feels easy to believe.
So, to find your hook, you could ask: "What's the story?"
Or, you could run through this checklist:
"Who is this for?" It's hard ignore something that calls you by name
Expose the Urgent Problem – it's hard to ignore someone talking about the very thing you're losing sleep over
"What's this about?" – offer something unique and believable to solve the "Urgent Problem"
Then add The Hook: find something familiar to "Who This is For" and their "Urgent Problem"… then turn it on its head. Take two seemingly incompatible things and smash them together!
The checklist is simple, but now that you know what The Hook is, you could spend the rest of your life hunting for good ones. The good news is, you'll know it when you get it. You'll feel it.
Screenwriter Blake Snyder says all good hooks have Irony. They are emotionally involving — like an itch you have to scratch.
Sometimes, you have to create The Hook. But most of the time, The Hook is already there. It's all around you… peeking over your shoulder… tickling the tip of your nose. You just need to know what to look for to see it.
Happy Hunting!